May 24, 2019 08:11 PM (This post was last modified: May 24, 2019 08:46 PM by C C.)
Time-wise, these scenes are over a decade after country blues acoustic guitarist
Mississippi John Hurt
made his recordings, and circa 8-years after progenitor Delta blues guitarist
Skip James
's playing went to shellac disk, but only a few before
Robert Johnson
's two sessions (and a year after the latter died).
Background story at
Waynes Meanderings
(colorized photo version):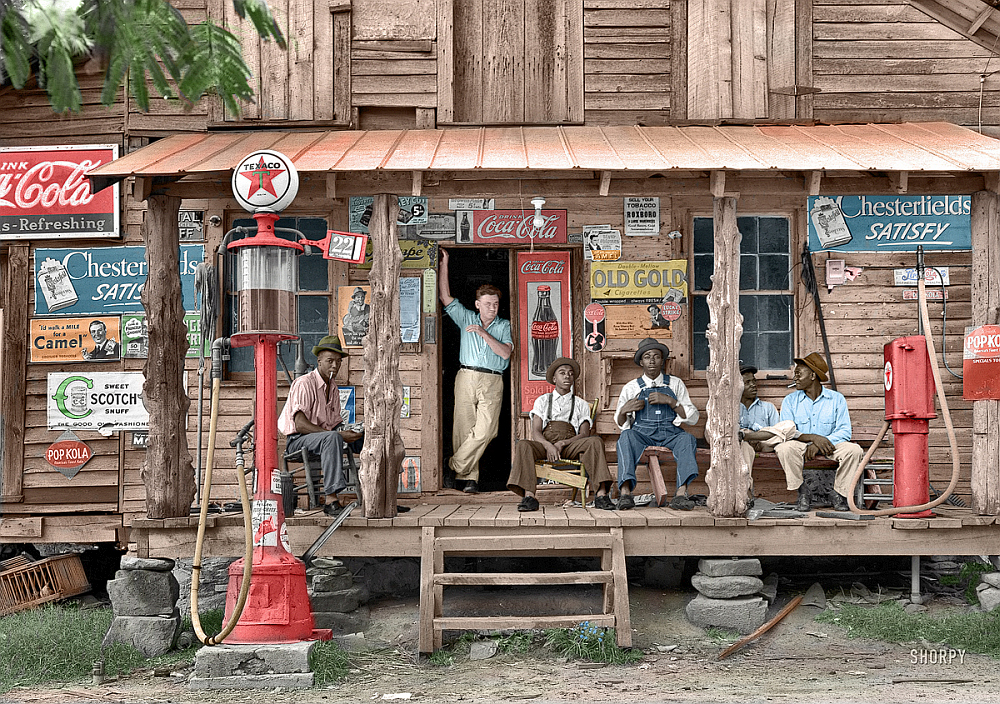 B&W image at bottom, some comments from:
https://www.shorpy.com/node/2434
(1) July 1939. Gordonton, N.C. "Country store on dirt road. Sunday afternoon. Note kerosene pump on the right and the gasoline pump on the left. Rough, unfinished timber posts have been used as supports for porch roof. Negro men sitting on the porch.
Brother of store owner stands in doorway
." 4x5 nitrate negative by
Dorothea Lange
for the Farm Security Administration.
(2) The building is still standing and I photographed it. And I met the Great-Nephew of the man standing in the doorway. In addition, this almost exact setting is used in the
American Adventure at Epcot
.
(3) For those of you who have pondered the origins of this photo, it is indeed a photo taken at a country store in
Roxboro, N.C.
This was called Bayne's Store and we do get a lot of questions and email here at the museum pertaining to this picture. It is a wonderful snapshot of a period and location in history in which racism doesn't seem to be at the forefront of the community and there are still several community stores around here today where a picture similar to this one could still be captured.
(4) The date of the photo and the apparent newness of the object are all consistent with what was going on in NC at the time. I did a little research and found out that in 1930, only 3% of NC farms had electricity. By 1935 it had grown to 11% and by 1961 93% of rural farms and residences had electricity. So, by 1939, it appears this store had their wiring installed sometime during the early period of electrification and that new box is a good example of one of the period.
The men are smiling because that soft drink is ice cold!