Dec 31, 2017 09:33 PM (This post was last modified: Jan 1, 2018 02:15 AM by RainbowUnicorn.)
(Dec 31, 2017 06:17 PM)

C C Wrote:

RainbowUnicorn Wrote:there is some interesting data suggesting shorter more highly managed use with CBT that can deliver some long term excellent outcomes without the long term issues around behaviours and side effects that are potentially created or symptomatic of people suffering mental illness. it is a highly complex field and almost every patient is unique to some point.


Not surprising that psychotherapists champion alternatives to their rivals' substance remedies. But we should clarify in this thread that questioning the so-called "chemical imbalance theory" as having ascended to popularity through proper procedures doesn't equate to dismissing any biological / physiological causes and a denial that drugs can be effective (regardless of the selected explanation) anymore than criticizing jihadist terrorism is a censure of Islam.



(Dec 31, 2017 02:22 PM)

RainbowUnicorn Wrote:

i worry that the anti science brigade and the pray the gay way cults may seek to produce media that is attempting to directly interfear with patients and their doctors.



I doubt that there's any neat correspondence to political borders in this area, and in a sense that goes beyond just the in-common conspiracy afflictions they share.

The money-makers on the conservative and religious side are as much receptive to supporting the interests and pocketing money from the pharmaceutical industry as their culturally isolated counterparts or fringe-weirdos are in spurning the mainstream system for rugged individualist self-treatment, herbal remedies, "leave it in the hands of God" and snake-handling.

On the other side there's a similar dichotomy between affluent or corporation-backed progressives and the contrasting rogue slash outland descendants of the New Left and hippie activity of the '60s (their anti-vax community, alternative medicine, "get in tune with the nature goddess", disgust for commercial empires and Big Pharma).

Which is to say, the go-getter financial factions of both right and left will continue to ensure that medicine producers and their amply compensated practitioners / dispensers are legislatively defended and bolstered with widespread positive propaganda to counteract the influence of cult / survivalist outhouse cultures and eccentric socialist Wandervogel tribes.

With respect to doctors, they're recruited into the Good Ol' Boy Network like any other category of practicing professionals. And rival psychotherapists keep tabs on what biomedical mental healthcare experts are up to in that department. I chose Daniel Carlat as a neutral sphincter because he's gone the rounds of being officially bought-out by pharmaceutical psychiatry while still defending the effectiveness of the drugs even after coming out of that closet (albeit in perplexed or mysterion mode as to why they work).

- - -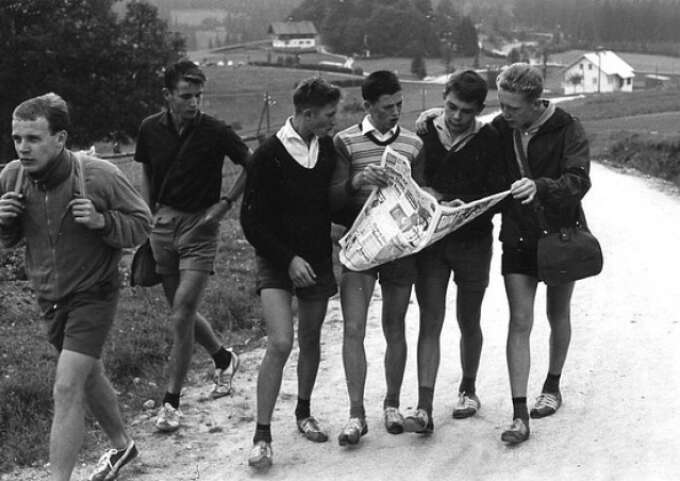 Quote:A 

Wandervogel

 group on a hike in the 1950s in Germany.
better it were Cartman sitting in there for the caption
"Respect my OrthoraTAe, I AM RICH PATIANT"  Neo-Liberal Alt-Right Profesional-Entitlest ...
What i have noticed is a trend among regular church going people to become suspicious about Psychiatric medications and the idea of being framed as qwasi-dependant on a non god entity.
this panders directly to the brain washing mantra of nothing before god.
i think it is an irresponsible and malicious process to foster & propogate in social communaties.
like promoting fast careless driving to teenage boys while advertising alcahol to them.
Additionally, considering the massive size of the economic market, there is no end of legal hack societal cannabals waiting to level their bank accounts at the income of big pharma sales
(american psychopathic litigious societal canaballistic culture).
what i think is interesting is the actual event nature of periodical mental illness.
as an example... (e.g)(i am creating one using information i have gained from talking to people)
i felt a little down so i  (wondered if i was)called myself clinically depressed. i went
to my doctor & said i was not coping with modern living.
my doctor put
me on Anti Depresants
i wasnt too sure if they really helped.
i changed my diet started some possative behaviour rienforcement and thinking,... started exercising and got a new hobby

i stopped taking them some months later & i feel completely better.
I dont think they really helped at all so i dont really beleive in them.
attempting to strike a common cord of logical scientific pharmacological common ground in people is probably quite a folly to then "engage with someone espousing" in dogma leaning ideological narccissistic religous mind control.
point being 2 things
1 most never bother to study the actual pharmacology
2 someone dealing with feelings who has a heavy dogma of religion governing their logical mind is not going to produce an explorative discussion for them or yourself.
more soo if they are the one feeling emotionally distressed challenging their religion while they are trialing SRII's isprobably not a good idea.