Jun 25, 2019 02:56 AM (This post was last modified: Jun 25, 2019 06:11 AM by Yazata.)
Three of them, including an American (Astroannimal who is returning to Earth after 204 days in space), the Canadian (David St. Jacques) and a Russian (Oleg Kononenko). The vehicle is a Russian Soyuz, currently the only manned vehicle model flying. The landing spot is Kazakhstan. Three remain on the ISS, two Americans and a Russian. They will probably be reinforced by another three soon.
NASA is currently doing live coverage of the return here. I've been watching it while I wait for tonight's Falcon Heavy launch.
https://www.youtube.com/watch?v=21X5lGlDOfg
The three returning astronauts entered the Soyuz and hatches were sealed hours before it finally undocked. I guess that there are lots of checklists. Right now it's still in space, moving away from the space station. On Earth, the Russian search-and-rescue forces are already deploying their helicopters and fixed wing aircraft to the recovery area in the Kazakhstan desert.
I'm sad to report that Little Earth wasn't with Astroannimal, so the cutest couple in the Solar System seem to have broken up.
https://twitter.com/NASASpaceflight/stat...7784662017
Edit: de-orbit burn just conducted and all the numbers look good.
Edit: Kononenko on the Soyuz is telling the other two (in Russian, there's simultaneous translation) not to put their procedures books between the seats and not to have their hands on their tablets' screens during descent. He says they should just hold them in their hands. Awaiting separation of service module and orbital module. Still 14 minutes until blazing reentry.
Search and rescue are confirmed to be in the air. Very nice day in Kazakhstan, 71 degrees F.
Edit: a few scary seconds when Kononenko reported trouble with a fuel manifold, you could hear the translator's tone of voice change to a tone of alarm. But they switched to the backup manifold which is working fine.
Edit: module separation confirmed. About to enter the atmosphere.
Edit: reentry underway. Hot plasma has cut off communications with the capsule.
Edit: crew has restored communications. They say they are fine. Say they experienced 4.8 Gs on reentry. Parachutes deployed.
Edit: the capsule has touched down and helicopters are circling the landing spot and landing to extract the astronauts.
Edit: all three astronauts are out of the capsule. None of them look like they are capable of walking, as their bodies get used to gravity again. They were carried to chairs next to the capsule. Astroannimal still looks perky, adopting cool shades and an American baseball cap as soon as her helmet was removed. She was pumping her fist in the air to the pleasure of the (mostly Russian) crowd and got a round of applause back. There's an American crew from NASA hovering over her, a Canadian Space Agency crew hovering over David St. Jacques, and a Roscosmos crew with Kononenko. Now the three of them are being carried into a hastily set up medical tent for medical exams by the flight surgeons. They are said to be eating fresh fruit. After months in the space station eating space food, fresh salads and fruit are said to be what every astronaut lusts after.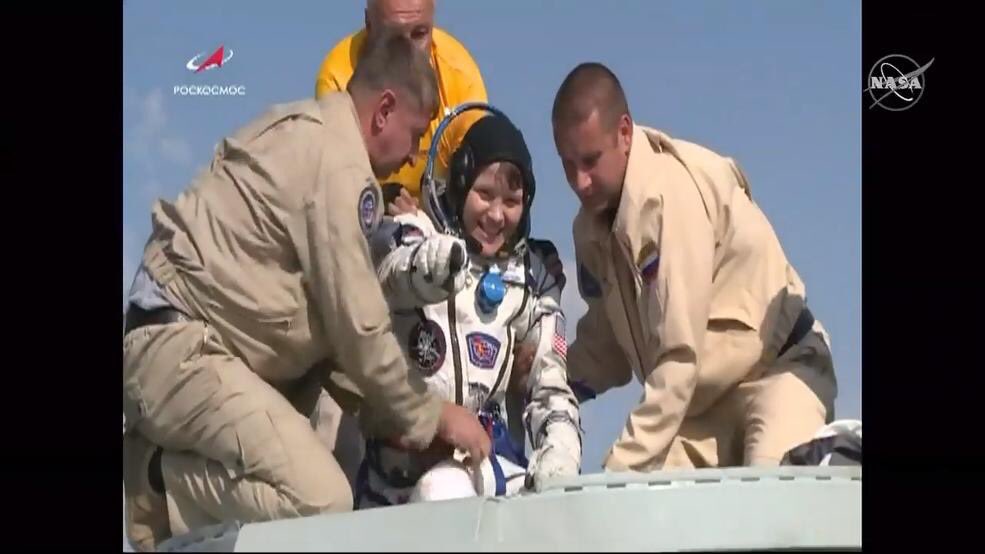 I'm going to miss Astroannimal. She was absolutely great. Check out her little one minute video about how many astronauts it takes to change a lightbulb in space. "How many astronauts does it take to change a light bulb? Just 1...but it also takes 4 tools, a written procedure, support from 2 mission control centers, upstream electric inhibits, & ~45 min!"
https://twitter.com/AstroAnnimal/status/...5086092288
They need to assign her another mission as soon as possible... just to entertain the Earth.