May 2, 2019 06:06 PM (This post was last modified: May 2, 2019 06:32 PM by Yazata.)
Their simulation had them send out a recon spacecraft in 2019 to observe, track and better characterize the incoming asteroid. By 2021 it sends back information allowing more precise impact data, showing that it will land right on top of Denver. (Which will get rid of those damned Colorado Avalanche, Rockies, Nuggets and Broncos... there's always a upside.)
They say (on December 30, 2021), "NASA plans to launch two rendezvous spacecraft.. toward 2019 PDC next spring that will arrive at 2019 PDC in November 2023. They will gather data that will enable experts to more precisely determine the asteroid's mass, density, porosity and structure. These data are vital to the success of any deflection efforts.
Before the two spacecraft are able to arrive at 2019 PDC, 23 months from now, a fleet of six kinetic impactor spacecraft will need to be built and launched by NASA, ESA, JAXA, and the Russian and Chinese space agencies, who all participate with the international Space Mission Planning Advisory Group (SMPAG) that was established for the purpose of collaborative efforts to mitigate an asteroid impact threat. The kinetic impact technique involves hitting the asteroid with a spacecraft to incrementally slow the speed of the asteroid to deflect it off its impact course with Earth."
Besides NASA and the national space organizations, I'd guess that SpaceX and its Falcon Heavy and Blue Origin with its New Glenn (which should be flying by then) would be on the case too.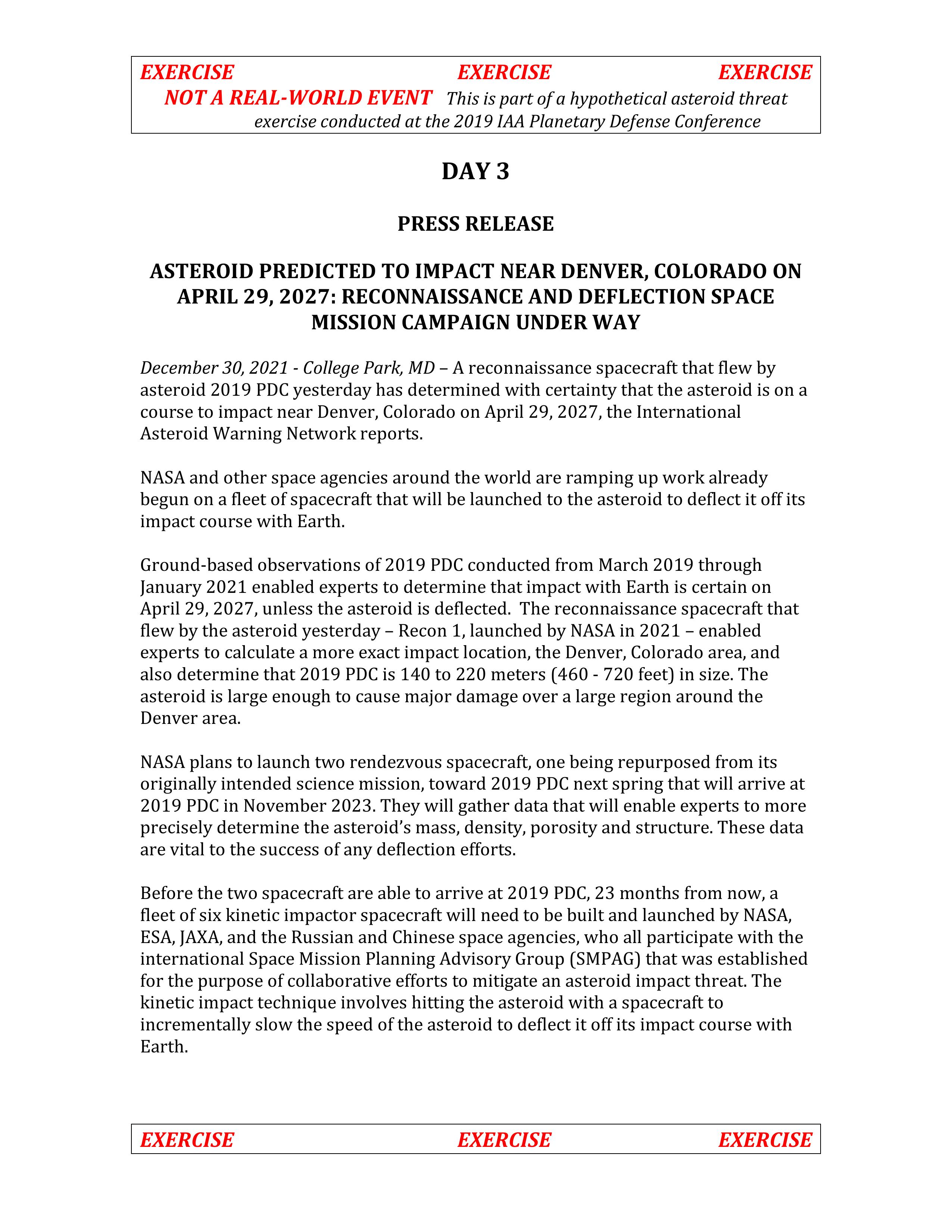 The agenda at the Planetary Defense Conference today seems to suggest that they are planning for the likelihood that the above efforts aren't successful and today they are concentrating on the consequences of asteroid impact and disaster management. They would presumably have several years to totally evacuate Denver and a large area of 4,000-5,000 square miles surrounding it, including important places like Boulder. They will have to move the state government, banks and so on. They will need to organize an orderly mass exodus of millions of people over a short period. There will be panic and huge economic effects as a major US city (and much of its state) are taken off-line, local property values drop to zero, vital industrial plants are threatened (with supply-chain effects), communications and transport effects (Denver is the Rocky Mountain hub) and on and on. They will have to figure out how threatened Colorado Springs and Ft. Collins are and maybe evacuate them too.
https://twitter.com/esaoperations/status...7264809986