---
Pros and cons of Ford's new aluminum trucks/SUVs - Magical Realist - May 17, 2015

"As part of their ever-increasing efforts to maximize fuel economy, carmakers are frequently using aluminum for body panels instead of steel to save weight.

Ford has been a leader in embracing the material at a volume level. In 2013 its CEO, Alan Mullaly, said that "pound for pound, aluminum is stronger and tougher than steel."

Aluminum is seen as the best way to reduce hundreds of pounds of body weight all at once. Ford is placing a huge bet on its aluminum crash diet, using the alloy for all of the body panels and the bed of its redesigned F-150 pickup. It claims that aluminum can improve the vehicle's fuel economy by as much as 29 percent.

That said, aluminum is a fickle metal to bend on the assembly line, and its quirky metallurgy could mean that body shops will have a tough time replacing bashed-in sheet metal. It's more expensive than steel in a raw state, in its conversion to a usable sheet metal, and in its assembly—resulting in a 60 to 80 percent cost premium, according to a Massachusetts Institute of Technology study. A recent calculation by Forbes estimated the added cost at $500 per F-150.

Ford is gambling 800,000 units per year of its historically most profitable vehicle on this technology. Company officials insist that there will be no quality or durability sacrifice in stamping out work trucks from a metal more commonly associated with mom's casserole.
But beware: Ford's use of aluminum in pre-2015 vehicles has had glitches.

A case in point: A Consumer Reports reader from St. Paul, Minn., who had "very carefully" maintained her 2011 Ford Expedition EL found that the paint on the aluminum tailgate began bubbling. Her dealer said the paint was oxidizing, a result of contamination during the painting process. (Aluminum is more prone to contamination than steel.)

Her Expedition had just exceeded its 36,000-mile warranty when the problem surfaced. After months of frustration, she was able to get Ford to replace the tailgate, free. It took a lot of effort and phone calls, but the lesson is that it makes sense to complain—and take your complaint up the ladder until you get satisfaction.

Corrosion: There's a fix for that

A scan of online discussion forums found paint problems and premature corrosion to be a common occurrence with aluminum.
When problems become prevalent with a car, manufacturers usually issue technical service bulletins (TSBs), which can instruct dealers to make repairs free or at a discount.

Ford has issued TSBs

Ford TSB number 06-25-15 covers Expedition tailgates from model years 2000 through 2007 and has been updated to include newer models.

Although the bulletins haven't covered our reader's Expedition, it appears that Ford is making good on consumer complaints about late-model vehicles.

If you have a similar problem and the manufacturer isn't coming through with a discounted or free repair, document the damage with photographs and keep records of conversations you have with the dealer. He might change his mind if you complain enough.

So how might Ford's checkered past with aluminum affect the F-150? The company says that the vehicle is completely different from previous aluminum models; it's more dent-resistant, and its paint is applied with a new process.

Ford also claims that body-repair costs won't be any higher than for a steel-bodied truck, and it has begun a nationwide training and certification process to make sure that its dealerships are up to speed. To show their confidence

Buyers unfortunate enough to find themselves in need of a body shop after purchasing a new F-150 can find a qualified aluminum repair center by using the dealer locator, at owner.ford.com."
—Jim Travers
http://www.consumerreports.org/cro/news/2015/02/pros-and-cons-of-aluminum-cars-and-trucks/index.htm

---
RE: Pros and cons of Ford's new aluminum trucks/SUVs - Yazata - May 18, 2015

Aircraft manufacturers have a tremendous amount of experience with large scale aluminum fabrication. It seems to work for them.

Planes are in the process of switching to carbon-composites. I expect that automobile manufacturers will eventually go that route too.

Will these new mostly aluminum trucks have higher price tags than older models? Ford can't raise the cost to consumers too much, without losing market share. (Chevy and Dodge would love that.) So if aluminum is more expensive for Ford, are they just going to eat the additional cost? What would that do to Ford's bottom line?


---
RE: Pros and cons of Ford's new aluminum trucks/SUVs - Magical Realist - May 18, 2015

That's a good question. Will customers pay more for the new lighter stronger bodies? They will probably get better mileage and be safer, so they can justify the higher price based on that. On a related note, I had a bad case of new car fever yesterday and built one online--a 2015 blue 4runner. Requested a quote and in about 5 minutes the phone rings and its the dealer offering me a deal on one he has. I go over there, and after all the charming and seduction end up buying it. It's been 15 years since I've had a new car. But I had the money, so I thought what the hell. No more pickups for me. I live in rainy Oregon, and having that wasted bed space has always bothered me. Now with this SUV I have 4 nice seats, a storage area, and everything covered. I'm on cloud 9. Cars are the only thing I really splurge on. This one's a 4 wheel drive too, for those always planned getways to the mountains or beach. And they now have what is called synthetic oil, requiring an oil change only every 10,000 miles!


---
RE: Pros and cons of Ford's new aluminum trucks/SUVs - Yazata - May 18, 2015

Wow, MR! That's exciting! You must be all energized, right?

A 2015? You weren't fooling around!

I've been dreaming about buying a pickup and putting a camper on it. That way I could go on road-trips with my house on my back. Like a snail!

I guess you can sleep in an SUV too.


---
RE: Pros and cons of Ford's new aluminum trucks/SUVs - Magical Realist - May 18, 2015

Yes..I'm very excited. I keep finding excuses to drive around. Do I need some more milk? This morning I sat inside it and played with all the gadgets. It's got a TV touch screen you can see when you back up and a map to wherever you're going. It's also got foglights underneath the headlights. The stereo is great too. I will be jamming to Bach as I take road trips across the Pacific NW. I can fold down the backseats and sleep in the back if I want to. You should look into the Tacoma line of Toyota trucks. Very nice but a little pricey. The Chevy Colorado is really number 1 rated, and it's cheaper. I can see you in a rainforest green one. You can have the camper painted to match the color of your truck. But I'm a diehard Toyota fan myself. Here's exactly what my 4runner looks like: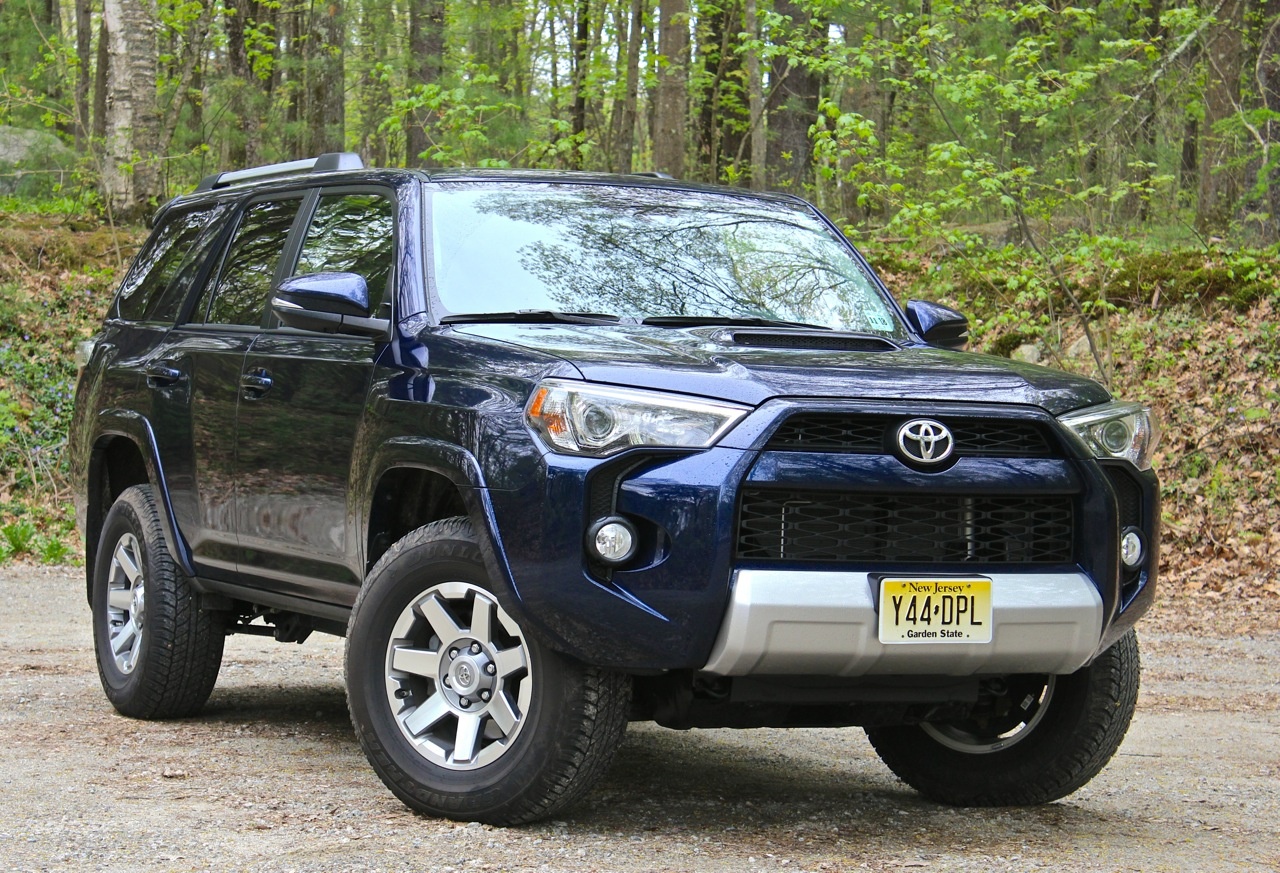 ---